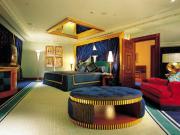 A romantic moonlight swim at Burj Al Arab if you book a luxury Dubai tour
Romance is in the air at Burj Al Arab with the introduction of the Romantic Moonlight Swim – an exclusive spa experience designed to set guests' hearts aflutter. Promising an evening of sheer luxury, the Romantic Moonlight Swim takes place in the serene environment of Burj Al Arab's Talise Spa 150 metres into the sky.
The treatment commences with a soothing massage to relax and unwind. The next step leads the couple to their own infinity pool adorned with floating rose petals, with the glimmering moonlight and sweeping views of Dubai and the Arabian Gulf serving as the only backdrop. The experience would not be complete without bespoke Burj Al Arab's beverages and personalised music to refresh the body as well as the soul. As a memento to keep the memories of the evening alive, guests are presented with a white-chequered Burj Al Arab bathrobe.
Burj Al Arab's Romantic Moonlight Swim includes:
•Private infinity pool at 150 metres above Dubai
•55-minute couples massage
•Bespoke Burj Al Arab refreshments and personalised music
•Burj Al Arab signature white-chequered bathrobes
Source: Jumeirah.